Table of Contents
Finding your Gandi handle(s)
If you have lost, forgotten, or don't know what your Gandi handle is, Gandi provides you with several ways of finding it.
Solution #1: Searching by e-mail address
You can search for your handle by the e-mail address you provided at the time you created your Gandi handle by clicking on "Login problems?" at any time you are asked to log in.
This will bring up the following:
Click on "Search". You will then be taken to the following page: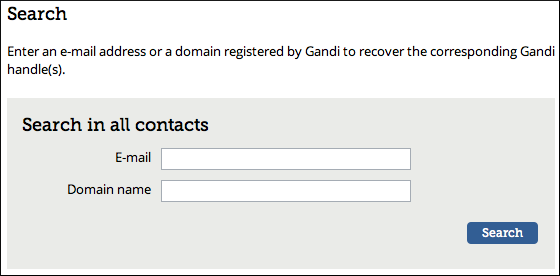 Enter your e-mail address in the "E-mail" box on top. This will then return a list of all the Gandi handles that are associated with your e-mail address.
You then can select the one you want to use by clicking on "Choose" that comes after it.
Finally, click on "Reset my password", and you will be sent an email containing a link that you can click on to reset the password for that handle.
Solution #2: Searching by domain
If you do not know or remember what the e-mail address of a particular Gandi handle is, but you know what the domain name is, you can search for your Gandi handle by its domain name, using the same form as above.
Enter your domain name in the "Domain" box on bottom, and click on "Search". This will then return a list of all the Gandi handles that are associated with that domain name. (They may not all belong to you if the various contact roles are filled by different handles).
You then can select the one you want to use by clicking on "Select" that comes after it. You can then choose to have the password automatically sent to its e-mail address.
Note: searching for domain names with certain extensions (i.e. .UK) may produce the result Data confidential. In that case, trying searching by email address as described above, or do a keyword search in your own email account for the word "Gandi", as we send a confirmation email when a new handle is created.
Solution #3: Whois lookup
Search for your domain name(s) in our Whois database; the corresponding Gandi handle will sometimes be visible in the results, depending on the extension.
The Gandi handle follows the line, "nic-hdl" (or "contact", or "registrant ID", etc.), as you can see in the example below, where the owner handle is ABC1234-GANDI:
Domain ID:D166108739-LROR
Domain Name: GANDIEXAMPLE.ORG
Created On:18-Jul-2012 04:00:16 UTC
Last Updated On:06-Nov-2013 19:59:13 UTC
Expiration Date:18-Jul-2014 04:00:16 UTC
Sponsoring Registrar:Gandi SAS (R42-LROR)
Status:CLIENT TRANSFER PROHIBITED
Registrant ID: ABC1234-GANDI  <------ this is the handle, as it ends in -GANDI
If it ends in -GANDI you know it's a Gandi handle. If it ends with anything else, then it is not a Gandi handle, and you'll need to contact customer support.
If you are logging in under a handle that does not appear in the Whois listing for a domain, that is probably the reason you can not see the domain, its invoices, or be able to manage it.
But that's not my handle!
If you do a handle lookup only to discover a handle you've never seen before, it may be due to one of these reasons:
Handle created by reseller

: If your domain is managed by a

reseller

(like Moonfruit or Webeden), you will not be able to log in to gandi.net with the corresponding handle. Either make the changes you need through your reseller or, if that's not possible, ask them to release your handle so you can log in at Gandi directly.
Handle created automatically during transfer: In some circumstances, handles are created on your behalf during a transfer. This frequently occurs in the case of certain extensions (.it, for example) which do not allow a simultaneous change of registrar and ownership change. If you transfer one of these top-level domains to Gandi, and the information in the whois did not exactly match the Gandi handle you provided when initiating the transfer, it will fail and a new handle must be created.
Handle created to renew a domain: Since domains can be renewed from any handle, sometimes people create a new handle to renew a domain. (While this is not a problem in itself, it can create confusion, so it is only recommended as a last resort.)
Using a new handle to renew a domain does not make the new handle the owner of the domain.
See also
Last modified: 03/05/2014 at 17:36 by Ryan A. (Gandi)
---