Table of Contents
How to create a handle
When you perform an operation (registration, transfer, etc.), we allow you to create a Gandi handle if you are not already logged in under one of yours. In this case, simply click on create a new account that you will see offered as an option.
Explanations
It is important to provide valid and complete information when you create your Gandi handle. This handle will be associated with one or more domain names as the owner, administrative, technical, and/or billing contact, or the owner of a Gandi product.
During handle creation, you will be able to choose the type of account you want. You may create a handle in your own name (individual), for your organization (company, public body, reseller), or your association. The type of information that we request from you depends on the type of the account you choose.
For more information about handle types, see this page.
Remember that
invoices are made in the name of the contact that was logged in to pay for the order
. Therefore, if you want the invoices to be made in the name of your company, create a
company-type account
in the name of your company, make this the billing contact for your domain(s) and then renew your services with that one. Just because a contact is a billing contact does
not
mean the invoice will be in that name. The invoice is made in the name of the one that was logged in to pay.
For our hosting service, only the owner contact of a server can pay for its services (renewal, more shares etc.)
There are instructions under each field to help you fill out the form and avoid errors. Any errors or omissions may delay or cause errors during your domain's creation, so be very careful to provide accurate contact information.
Be sure to choose a secure password.
The security question is not required, but is strongly recommended in order to protect the security of your account.
In the second part of the form, you must enter a physical address where you can be contacted:
Remember that one of your legal obligations is that we be able to contact you by email, telephone, and postal mail at any time.
If we are unable to reach you, we have the right (and, in some cases, an obligation) to deactivate services that you may have purchased from us without notice.
Likewise, in the third part of the form, you can provide your telephone and fax number as well as your email address. Only the telephone number and email address are mandatory: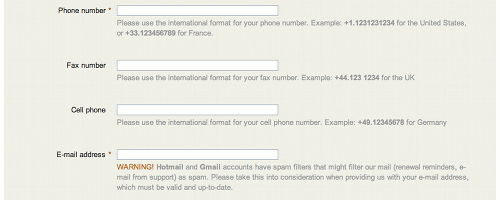 Be sure that you are using the international format for the telephone number. For example, if you live in America and your phone number is (319) 555-9544, then you need to enter: +1.3195559544 including the "+" sign. Be sure to use the correct country code.
Finally, the fourth and last part of our creation form contains preferences concerning various subscriptions.
Gandi's newsletter is sent out once a month. It allows us to keep you up to date with recent events, product releases, or promos that we are having. This newsletter is only sent out in text-only format, and usually contains a number of excellent puns. By default, you are not subscribed to this newsletter.
The anti-spam system will replace your address in the public whois database with a Gandi address which will forward mails to your real address. This option is activated by default.
The "Private Domain Registration" service is only available to individual-type handles and is only applied to certain TLDs (see the conditions). Note that in order to activate this protection, you must accept the associated Gandi contract.
Finally, the resell option is an option that we must offer you (ICANN requirement), but which is of course, deactivated by default.
Expected formats
Some data formats must be strictly respected to avoid getting an error message when validating the contact creation form.
Postal/zip codes
The format of the postcode can vary according to the country, and must adhere to international rules, including spaces. The rules are available for consultation here.
The intra-community VAT number
If you are a company registered in the European Union, you can enter your intra-community VAT number, so as to avoid being charged the VAT. In order to be valid, the exact format for this number must be used. The rules are available for consultation in this Wikipedia article.
The telephone dialing code
Just like the previous data, the telephone dialing code uses a specific format that should be respected. You will find the list of all the codes by country on this page.
Special TLD requirements
No special restrictions are imposed if you want to register a domain name in one of the following TLDs: .com/.net/.org/.biz./info/.mobi/.at/.be/.cc/.ch/.li/.nu/.tv/.co.uk/.org.uk/
Other top-level domains may have special requirements. These are listed in the contract that you sign when you register the extension, and you can also see them by clicking on the extension name on our price list.
See also
Last modified: 12/17/2013 at 02:06 by AJ B. (Gandi)
---