Table of Contents
Automatic Renewal at Gandi
This is an article about a specific aspect of domain name renewal.
Domain names are not automatically renewed at Gandi unless you have specifically activated that service. If you have not enabled automatic renewal on your domain name (and you don't renew manually), you will not be charged, your domain registration will expire, and your domain name will be deleted. The deletion time after the expiration date varies from 1 to 65 days, depending on the TLD (extension).
How to activate automatic renewal
It is very simple to activate automatic renewal for a domain: you just need to click on the
icon to the right of your domain name in your list of domain names, and confirm the change. When the auto-renewal is active, the icon is green:

.
Deactivation is just as simple: click on the icon again.
Activation can also be done from the control panel of the domain name, in the "General information" section. Click the "Manage" link next to "Renewal: Inactive":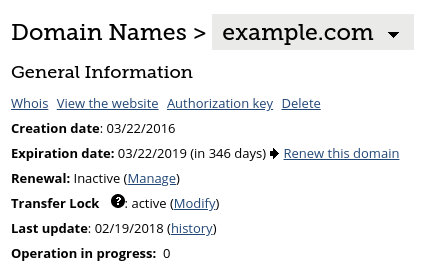 Only the Owner, Administrative, and Billing contacts on a given domain have the ability to activate automatic renewal. The Technical contact does not have this ability. See
contact rights
.
How does it work?
Automatic renewal occurs 31 days before the expiration date of the domain, and you will be notified by e-mail. Once auto-renew is activated on a domain, all you need to do is credit your prepaid account (an e-mail reminder will be sent to you if your prepaid account balance is not enough to cover the renewal).
Using your prepaid account to automatically renew your domain names
Automatic renewal durations
Automatic renewals of domain names are performed with the minimum allowed renewal duration for the TLD of the domain name by default. In most cases, this is one year.
If the automatic renewals for a domain name need to allow for more than the minimum, the API can be used to set the automatic renewal duration.
Last modified: 04/12/2018 at 01:30 by Arthur C. (Gandi)
---