Prestashop 1.4.8.3 Installation Tutorial
This page walks you through the installation of Prestashop on Gandi Simple Hosting.
What is Prestashop?
Prestashop is E-commerce software ideal for individuals and small businesses. It comes with a large number of add-ons, modules and themes that allow for both easy and manual customization. Plus, Prestashop is totally free and open source.
Before proceeding further, know that the Prestashop community has excellent "getting started" documentation available on their site.
How to Install Prestashop
Obtain the files and upload them to your instance
1. Download install files: First, download the latest version of PrestaShop download page and save it to your computer. (Note that this tutorial is specific to version 1.4.8.3, so there may be some differences if you download a another version.)
2. Extract: The downloaded file is a .zip archive. You must unzip/uncompress the downloaded file on your own computer, which will result in a folder being created called prestashop (or something similar) containing the PrestaShop files.
3. Upload: Using sFTP, upload the contents of the folder (not the folder itself, and not the .zip!) to the htdocs/ directory of the vhost on your Simple Hosting instance where you want your web store to be accessible on the internet (the following screenshot was taken while using FileZilla):
For example: If you want your shop to be accessible directly at shop.example.com, you will need to place the folders and files into the htdocs/ directory of your virtual host shop.example.com. Via sFTP, the full directory path would be /vhosts/shop.example.com/htdocs/.
The htdocs/ directory already contains a default index.html file. You should delete this file before transferring your folders, or your transfer will be interrupted by a prompt asking if it's okay to overwrite this file (and it is, as long as it's the original, default "It works!" .html file and not something you uploaded yourself).
Create your database
Since it will take a while for your files to upload, now would be a good time to create your database.
Since there is no limit to the number of databases you can have on your Simple Hosting instance, it is preferable to create a database dedicated to your Prestashop.
Log into phpMyAdmin from your instance control panel and click the "Databases" tab:
Create your database:

Then, click on the database name in the list:
And select the "Privileges" tab:
Select "Add user":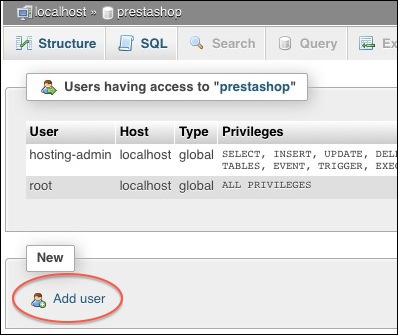 Provide information for the new user:
Be sure to make a note of the database name, username and password you choose here, as you will need them in a little while.
More information about creating databases in phpMyAdmin is available here.
Run the Web installer
Once all of the directories and files have been transferred to your instance, open your web browser and navigate to the root of the installation directory.
For example: If you transferred the Prestashop files to the virtual host shop.example.com, you should navigate to http://shop.example.com/.
There, you should find an installation screen asking you to select your language of choice for the installation interface and to accept the license agreement: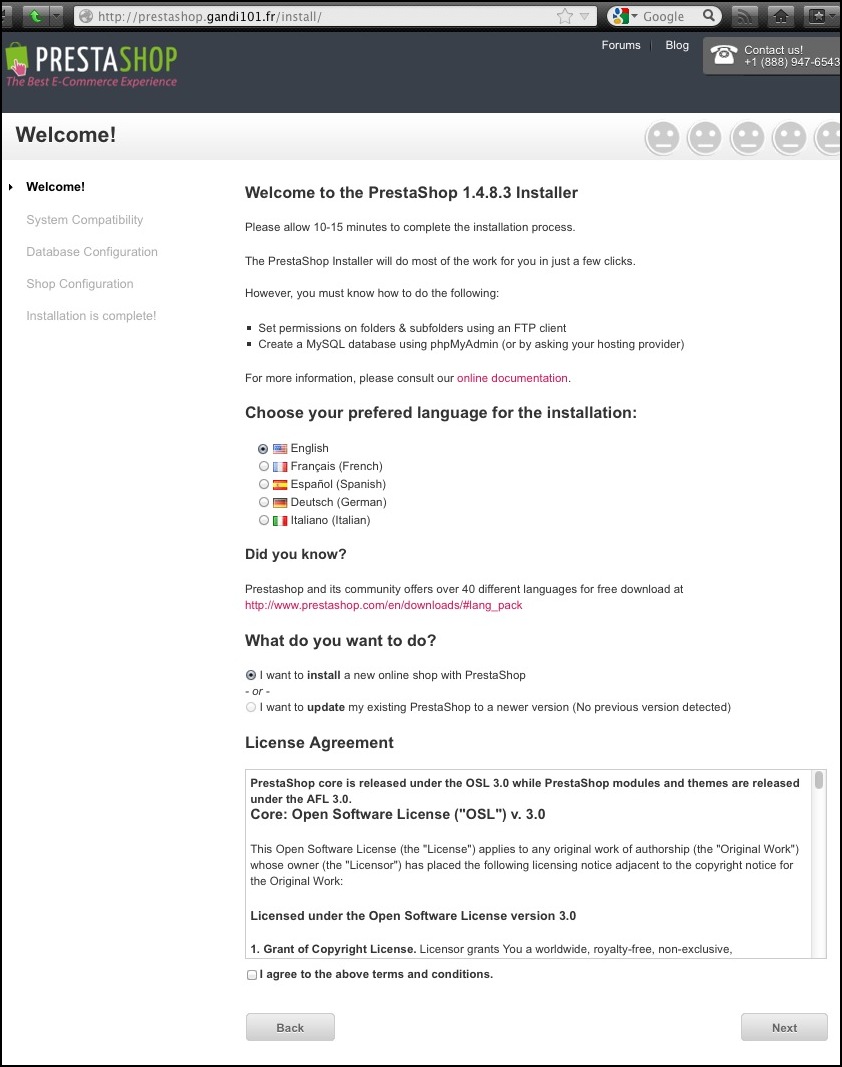 Verify Minimum requirements
After accepting the terms and conditions of the installation tool, click on Next.
The installer will verify that your instance meets minimum requirements needed for Prestashop to function.
Configure Database Connection
On the next screen, you will be asked to provide database connection settings:
Click "Verify my database settings" and the installer will check the credentials you provided.
Select installation type
Next, select whether you want to start with an empty shop ("lite" mode: basic installation) or with a sample shop ("full" mode). The latter includes demo products that will help new users learn how to manage their shop more easily.
If you're not sure, choose "full mode":

E-mail configuration
Choose Your Shop Details
The next installation phase concerns the administration of your shop. Here you will choose your shop name, administrator credentials, and so on. The administrator password must include at least 8 characters.
You have the option of changing the logo here, but you can of course do this later.
Final steps
Once you've finished the configuration, don't jump in just yet! You still have two important things to do:
Delete the install/ subdirectory in htdocs/ on your instance.

Rename the admin/ directory, to, for example, manage/, or adminshop/, secret/, etc. It doesn't matter what you change it to, only that you change it from the default. This is to help protect your shop against automated hacks. Be sure to write down the new name of your admin/ folder, as you will access it directly from now on.
If you clicked on "Manage your shop" before having done the aforementioned two things, you will encounter a page recommending you do so. Because of the server cache, you may have to wait a few minutes before being able to access your new admin URL.
Once you've done the above, you're ready to get started managing your shop: (be sure you replace adminshop/ in this URL with whatever you chose in the last step – it is admin/ by default):
The email address and password are the ones you provided during the PrestaShop installation.
Congratulations, the installation is complete!
See Also
If you want to dive in to more advanced PrestaShop settings or ask questions in the Prestashop community, we recommend you visit the following external resources:
Last modified: 10/17/2012 at 20:35 by Thomas S. (Gandi)
---